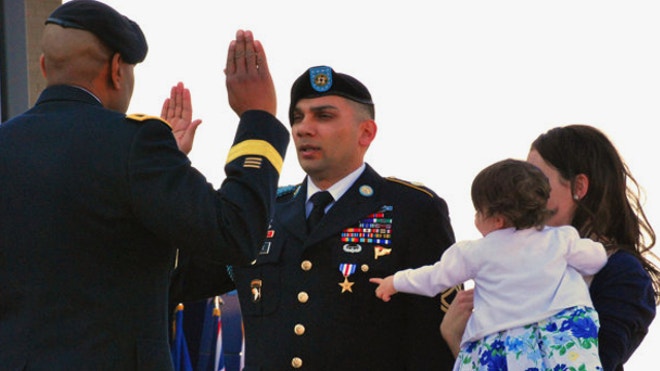 Soldier recovering from brain injury gets Silver Star, re-enlists to help others
Published April 06, 2013
FoxNews.com

April 5, 2013: Sgt. 1st Class Matthew Loheide re-enlists in the Army at Fort Campbell, Ky., while his daughter, Annabella, held by Marianne Loheide, points to his Silver Star. Loheide received the Silver Star for his actions to evacuate wounded soldiers while in Afghanistan in 2010. (AP)
FORT CAMPBELL, Ky. - A Fort Campbell soldier who suffered a traumatic brain injury has received the Silver Star, the military's third highest medal for valor, for his actions to help evacuate wounded troops during a mission in Afghanistan in 2010.
After receiving the medal on Friday at the installation on the Tennessee-Kentucky state line, Sgt. 1st Class Matthew Loheide of Patchogue, N.Y., immediately re-enlisted in the Army to serve other wounded warriors.
Loheide and others were injured when an Air Force jet mistakenly dropped a bomb on their position during a mission that involved the clearance of a Taliban haven, according to The Leaf-Chronicle.
Read more:
http://www.foxnews.com/us/2013/04/06/army-soldier-recovering-from-tbi-gets-silver-star/?test=latestnews#ixzz2PgR0FDD0