Discussion Starter
·
#1
·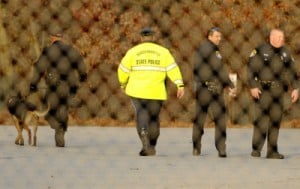 ​
Attleboro and state police, along with a police dog, at the scene of an assault in Attleboro Tuesday. (Staff photo by Martin Gavin)​
ATTLEBORO
- Police say an 18-year-old woman was accosted Tuesday afternoon in a downtown alley, then forced to drive at knifepoint to a manufacturing plant several blocks away, where she escaped after being sexually assaulted by her captor.
The woman ran from the parking lot of the Polyfiber plant on Starkey Avenue to Pleasant Street, where a bystander came to her aid, Detective Sgt. Arthur Brillon said.
The incident began near the city parking garage off Sanford Street, and was reported just after 1:30 p.m.
http://www.thesunchronicle.com/news...cle_c2c42aea-18cd-540e-99c3-7d15a734f05f.html