Discussion Starter
·
#1
·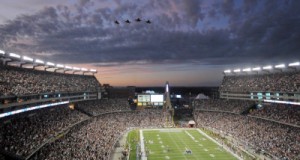 ​
Four U.S. Air Force F-15 fighter jets make their way over Gillette Stadium to help kick off the New England Patriots' home opener against Buffalo on Monday Night Football in this September 2009 photo. The Patriots have a pair of home night games on tap, with Monday night's game against visiting Houston and the following Sunday night versus San Francisco. (Staff photo by Mark Stockwell)​
FOXBORO
- Police Chief Ed O'Leary remembers when working a detail at the old Schaefer/Sullivan/Foxboro Stadium in the late 1970s and early '80s was akin to being in the "wild west."
As a patrolman on the Foxboro force, he started working New England Patriots games in 1977, when there were just three portable radios in use among all the officers at the game.
He said that by 1978, things improved slightly with eight call boxes around the stadium, where spotters up top could call officers and alert them to trouble spots below.
http://www.thesunchronicle.com/news...cle_5848f63e-eb1e-5b57-b21f-72b699035b13.html