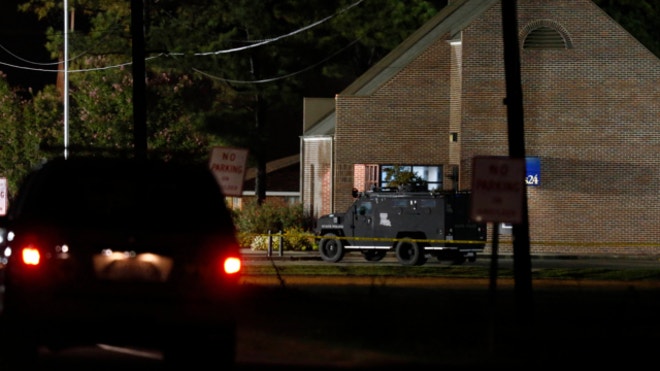 2
Gunman who took hostages at Louisiana bank posted chilling Facebook messages
Published August 14, 2013
FoxNews.com

Aug. 14, 2013: Police drive past the Tensas State Bank branch in St. Joseph, La., early Wednesday morning in St. Joseph, La., where a gunman took three people hostage Tuesday. (AP)


Aug 13, 2013: Authorities respond to a reported hostage situation at a bank in rural Louisiana. (knoe)
Next Slide
Previous Slide
The gunman who took three hostages at a Louisiana bank Tuesday -- killing one of them before being shot and killed by police -- recently posted chilling messages on Facebook, including a cartoon strip about hostages.
In a post on Sunday, 20-year-old Fuaed Abdo Ahmed displays a cartoon strip that focuses on an apparent hostage situation. In it, a gunman points a pistol at a hostage. "I'll release the hostage if you give me a sandwich!" says the gunman in the strip.
Negotiators in the next frame then talk about the demand, with one asking "How close is the nearest deli?" "Three blocks," the second man replies.
"Okay, you can kill the hostage," one negotiator calls back to the hostage-taker.
Ahmed's final post, made Tuesday just hours before the hostage standoff began, is of a photo of a man with a sword attacking a tank.Under the photo is a quote from the novel "If This Goes On," a 1940 science-fiction novel by Robert Heinlein that speculates on life in a futuristic American theocratic Christian society.
Read more:
http://www.foxnews.com/us/2013/08/14/gunman-takes-3-hostages-at-louisiana-bank/?test=latestnews#ixzz2bxI8CAXa